Tools
Search the Internet: Google Yahoo
Find a phone number: YellowPages or WhitePages
Web based email: YahooMail Hotmail
Look up Stock Quotes
Maps and directions: Mapquest
Useful links for Travel, shopping & dining and Movies
Job resources Website design resources
Fitness: Fitness and exercise information
EHSO: Environment, health and safety Information
Chastain Park: Looking for Chastain Park Concert tickets or directions? Click here
Chastain Park Amphitheater 2015 Concerts
Where it is, what it is, who's playing and how to get tickets!
135 W Wieuca Rd
Atlanta, GA 30327
Concert Information: 404-233-7275
See Sold-Out Shows! Tickets Available on StubHub.com
---
Click here to see the current 2015 concert schedule, ticket prices and ordering.
Chastain Park Amphitheatre is a small outdoor venue situated comfortably in a natural setting located off Roswell Road in the Buckhead area of Atlanta. It is really a beautiful venue for a concert - very intimate, but also safe - located in a good part of north Atlanta, the people sitting in the seats next to you are always nice folks. It is one of the most popular amphitheatres in the country. Seeing a concert here tells you it's summer in Atlanta. Many of music's biggest names from every musical genre have appeared on the Chastain stage. Chastain is known for its relaxed atmosphere, matching the music and performances. Most people bring a light supper, wine and cheese, coolers, candles and snacks and snuggle up with their honey to listen to music under the stars! You ARE allowed to bring in coolers, food and drinks, subject to inspection.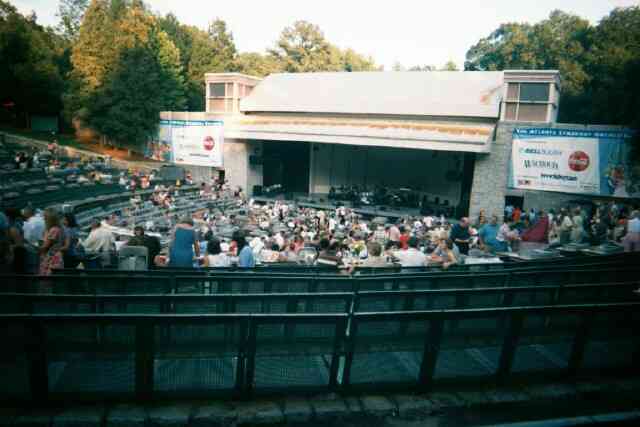 If you don't want to bring your own food and drink call "Glorious Events" at 770-452-9202 and "Proof of the Pudding" at 678-584-9581 for catering. Both offer gourmet selections of appetizers and full-course dinners. I'm not sure about the prices, but if you order ahead, it'll be ready when you arrive.
There are also stands selling food and drink: espresso drink or cool off with a Frappuccino® blended beverage from Starbucks and other concessions, located throughout the amphitheater, with a wine list by the glass or bottle, mixed drinks, wine coolers, soft drinks, bottled water, juices and more.
---
Tips and Key Information:
Gates usually open around 6:30PM.
All concerts are rain or shine. I've often sat under an umbrella to watch a concert during a summer thunderstorm - it's actually fun!)
All seating areas are designated as non-smoking areas. A special smoking area has been set up near Gate 4.
No cameras, video recorders or recording equipment are allowed (although, if you are discrete, you may be able to get away with it)
Wheelchair access tickets are available through TicketMaster.
No chairs of any type are allowed to be brought inside.
Lawn ticket holders may bring a blanket to use as a seat.
All children must have a ticket, regardless of age or size

---
Chastain Seating
Refer to the seating chart at right for your seating choice. PLEASE NOTE: Due to the volume and variety of seating requests, seats will be assigned on a first-come, first-served basis. If they cannot match your selection exactly, they will offer you the next best choice.

*Patrons in need of special assistance, please call (404) 733-5000 for more information.
---
Directions to Chastain
Chastain Park Amphitheater is located in Northwest Atlanta, between Buckhead and Sandy Springs, off Roswell Road, near the intersection of West Wieuca and Powers Ferry Roads. The Chastain Park Box Office is at the intersection of Powers Ferry Road and Stella Drive.
From the North:
Take I-285 to Roswell Road/Sandy Springs (exit 17)
Head south on Roswell Road (2.5 miles)
Turn right on to West Wieuca Road at the light (8/10 mile), at the Wachovia Bank Pass the 4-way stop
-OR-
Take 400 south to the Glenridge Connector (exit 3)
Make a left (west) on to Loop 407 (Glenridge Connector)
Turn left at the first light on to Johnson Ferry Road Turn left at the second light on to Roswell Road Turn right at the second light on to West Wieuca Road (light)
Pass the 4-way stop
From the South:
Take I-85 north to 400 north Exit off of 400 north to the Buckhead Loop, (exit 2), turning left at the first light (1/2 mile)
Turn right onto Piedmont Road (first light)
Piedmont ends at Roswell Road (1.5 miles). Bear right onto Roswell and make an immediate left at the first street, Powers Ferry Road (BP & Phillips service stations)
Continue straight on Powers Ferry Road for 1.7 miles to Chastain Park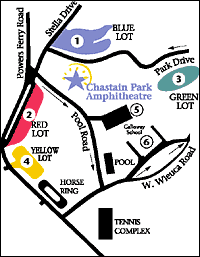 The best parking is on the way to the Green Lot - it is the easiest to get to. The road to the Green Lot always have room and it's free AND close!
Close-in Parking Pre-paid parking is available to all subscribers -- except Take 5. However, it's "first-come, first-served" so act quickly, The deadline for requests is usually around April 19. Parking coupons and season tickets will be mailed in May. PLEASE NOTE: One parking coupon per concert is included in TABLE packages.
Printable Maps to Chastain (PDF, 96KB)
Printable Parking Lot Maps (PDF, 149KB)
Amenities of the park and other information:
The park is great for more than just concerts. The 158-acre park is located in one of Buckhead's most expensive neighborhoods. There is a reasonably priced 18-hole golf course, North Fulton Golf Course and great jogging paths beneath the many large trees.. The paved path winds around the park's perimeter with hills and curves, along with several foot bridges and wooded spots for a distance of approximately three miles.

There are nine tennis courts, a swimming pool, basketball court, baseball fields and several picnic areas. The free Chastain Art Gallery is located on the park grounds occasionally has shows.
Click here to see the current 2015 concert schedule, ticket prices and ordering.
OpenSeats | Buy Concert tickets online